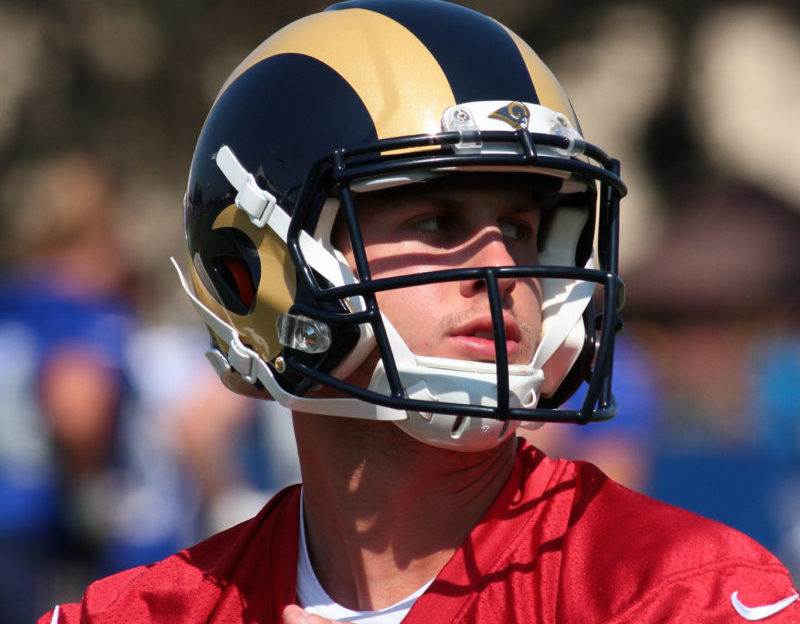 Praveer Sharma/Flickr
It's safe to call the first two weeks of free agency for the Los Angeles Rams, well, safe.
The team's biggest splash was signing durable veteran left tackle Andrew Whitworth to protect Jared Goff for at least the next two seasons. Robert Woods, a versatile wide receiver with L.A. roots, should help to improve the league's 31st-ranked passing attack. Former Cowboys running back Lance Dunbar makes up for the loss of Benny Cunningham. And it was Wade's world on defense: Kayvon Webster and Connor Barwin — former Phillips students — were brought in to be key contributors in the Rams' new 3-4 look.
Those were the highlights. All substantive moves, but more must be done on offense to maximize Goff's development in 2017. With salary cap restraints and no first-round pick, let's examine how the Rams may be able to further bolster the skill positions around their young quarterback early in this year's draft.
Wide receiver
The reason Los Angeles wasn't able to invest much money into the receiver position in free agency is simple: Tavon Austin's contract. Austin has a cap number of nearly $15 million in 2017, trailing only Dez Bryant and Larry Fitzgerald among wide receiver salaries, per Over the Cap.
The Rams could use their second-round pick (No. 37 overall) on the best wide receiver available. Assuming Clemson's Mike Williams, Western Michigan's Corey Davis and Washington's John Ross are all gone, perhaps Los Angeles homes in on the sure-handed JuJu Smith-Schuster, who played his college ball at the Coliseum for USC.
Other potential options at wide receiver in the second and third rounds include Eastern Washington's Cooper Kupp, Penn State's Chris Godwin and East Carolina's Zay Jones.
Tight end
Rams head coach Sean McVay — a former tight ends coach — loves utilizing this position. Last season in Washington with McVay calling the plays, Jordan Reed and Vernon Davis combined for 110 catches for 1,269 yards and eight touchdowns.
McVay doesn't have those proven playmakers in Los Angeles, but there is potential on the roster. Second-year tight end Tyler Higbee is slated to play a major role in the offense. The draft is also rich with tight end talent.
With Alabama's O.J. Howard or Miami's David Njoku likely first-rounders, Ole Miss' Evan Engram could be one heck of a consolation prize staring at the Rams in the second round. Engram, who has drawn multiple comparisons to Reed, ripped up the combine and is probably a surefire first-round pick any other year. He'd be a perfect fit for McVay's offense and a reliable target for Goff.
Michigan's Jake Butt, who tore his ACL in the Orange Bowl loss to Florida State, is a potential option for the Rams in the third round. Butt told NFL Media's Mike Mayock Friday he could be ready to play before NFL training camps open.
It's clear Los Angeles' draft needs go beyond just weapons for Goff. More depth is required in the secondary; the O-line, too. But to properly evaluate the player whom you've invested so much in, selecting a wide receiver or tight end early in the draft should be the top priority.